Kevin Wessels is the Founder and Managing Director of RevSherpas LLC, a boutique business growth advisory and customer experience strategy consulting firm for the small business community. He has over 10 years of management consulting experience scaling global companies using his internationally proven and proprietary Client Connect!™ formula. He has worked with some of the fastest-growing digital agencies and financial institutions in the world to accelerate revenues and create more consistent cash flow quickly, inexpensively, and with less effort. To date, his largest client engagement involved directing a multi-year $60M global CRM strategy, digital customer experience, and marketing transformation program for a leading investment management firm.
Kevin's specialties are building client-centric company cultures, maximizing employee engagement, boosting staff productivity, revitalizing underperforming marketing strategies, improving sales conversions, and increasing client retention to ultimately significantly grow profits.
His work has appeared in CustomerThink, MyCustomer, SmallBizClub, TrainingZone, Disrupt, True Hollywood Talk, Small Business Sense, Hustler Minds, Successful Hacks, BossUp Weekly, The Business Times, Influencer Hustle, USA Business Radio, Thrive Global, and several other media outlets and publications.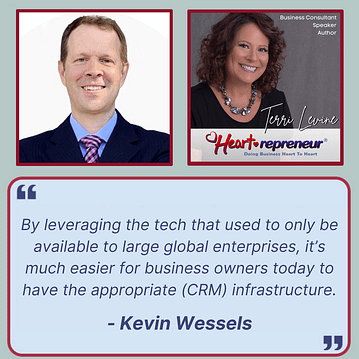 He is the author of the following books:
1) EXPONENTIALLY OUTPERFORM IN ANY ECONOMY: Proven Growth Acceleration Strategies for Time-Constrained Business Owners to Uncover MASSIVE Additional Revenue in Under 1 Hour
2) CLIENT CONNECT!: Why You Need An Elevated CRM Strategy To EXCEED Heightened Customer Expectations
3) GET THERE!: The Premier Peak Performance and Profits Playbook for Entrepreneurs
4) GROWTH GAME CHANGERS: How to Outshine and Outlast the Competition Without Burning Out
5) DIGITAL MARKETING DEMYSTIFIED: How to Generate MORE Leads Online Even if You're Not a Techie
6) FINANCIAL STATEMENT ANALYSIS MASTERY: The SIMPLE Way to Understand and Unlock Untapped Profits from Your Financials Even if You're Not a CPA or MBA
Kevin earned his M.B.A in Finance from Saint Joseph's University and received his B.A. from Vanderbilt University with a double major in Economics and Spanish. Kevin resides in Houston, TX with his wife, two daughters, and mini Labradoodle.
Follow Kevin:
LinkedIn | Twitter | Amazon | Website
Subscribe and Tune in to more Heart-repreneur® Radio:
https://heartrepreneur.libsyn.com