Amani Roberts is a Washington DC born and bred creative, graduate of Howard University, who has been a DJ since 2008. Amani's hospitality career has spanned over 25-years holding jobs such as Hotel General Manager, Director of Sales & Marketing and Regional Director of Sales & Marketing with Marriott International.
Amani currently lives in Los Angeles, California and is the Chief Musical Curator for his company, The Amani Experience. This company specializes in providing music for corporate events, social events, virtual events, team-building experiences, creating original music for commercials or videos, and teaching students of all ages how to DJ. Amani has produced remixes of artists such as Sade, Kehlani, Ellie Goulding, Jazmine Sullivan, Little Big Town, Alessia Cara, and Hoodboi for his music collective known as A Starter Jacket.
DJ AmRo hosts a weekly podcast called "The Amani Experience Podcast" where he interviews creative professionals from all over the world about why they took the leap from corporate life to the creative life. Amani is an adjunct professor at Cal State University – Fullerton (CSUF), teaching Entertainment Money Management in the Mihaylo School of Business & Economics as well as the Co-Director for the Center for Entertainment & Hospitality Management. He has been active on the board of Meeting Professionals International – Southern California for over five years and is currently the President-Elect for the chapter.
In July, Amani became the first African-American President for MPI Southern California in 44 years. Amani is currently attending the world-renowned Berklee College of Music and studying to get his Masters in Music Business with an expected graduation date of December 2021. Amani's first book, "DJs Mean Business: One Night Behind The Turntables Can Spin Your Company's Success" was released in April of 2020.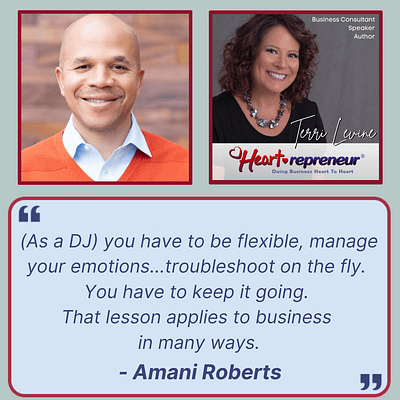 Follow Amani: